17 Apr
Hello, hello!
I haven't participated in What I Ate Wednesday in a few weeks, and I (surprisingly) remembered to photograph what I ate on Monday, so I thought I'd join in the link-up.
Thanks to Jenn for hosting!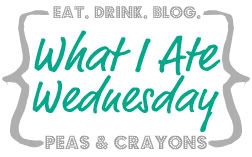 Breakfast – Overnight oats with blackberries, pb, and honey and Dunkin' Donuts coffee
This meal should come as no surprise to my long-time readers—overnight oats are my go-to. If you're wondering why there are so few blackberries, that would be because they are expensive and I have to share with Chris.
I picked up a box of Dunkin' Donuts K-Cups the other weekend, and it was a wise, wise decision.
Lunch – Peanut butter and jelly, Special K popcorn chips, and a raspberry Chobani
Monday was a hectic day, so I ate at my desk (I try not to do this). I was away all day Sunday at a bridal shower, so I used every "free" second on Monday to catch up on some work.
Oh, and I'm obsessed with those chips—so good!
Afternoon Snack – Cookie dough Quest bar
I snacked on this Quest bar during my prep period. I had heard so many people rave about it, so I was excited to give it a try for myself. The taste is great and the texture of the bar – and all Quest bars, in my opinion – really is cookie dough-like.
Dinner – Tuna noodle casserole
This recipe – from Skinnytaste – was fantastic. I really liked the flavor that the mushrooms added, and I even ate all of my peas, which really aren't my favorite vegetable. My only complaint was that this took a little while to prepare and more effort than I'm used to on a weeknight. Luckily, Monday was a rest day for me, but if I had to make this after a gym session, I'd probably get pretty hangry.
Dessert – Cake pop
For dessert on Monday, I had a cake pop that was a favor from Sunday's bridal shower. I had a picture of it, but now I can't find it on my computer… whoopsies!
Definitely a good day of eats!
Cake pops – yay or nay? I think they're adorable favors and wonderful portion control, but if I'm being honest… I want all. of. the. cake.