Happy What I Ate Wednesday, friends!
Since Monday was a day off of work, I did my best to photograph my eats so I could link up with Jenn and the rest of the WIAW participants.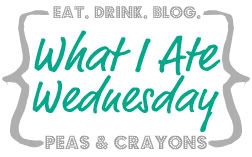 Remember when I said I was trying not to eat so much junk food after not feeling well on Sunday? Well, by the end of the day, that was out the window!
Breakfast
I started my day with a bowl of Cinnamon Chex with unsweetened vanilla almond milk and, of course, a cup of coffee.
After breakfast, I headed to spin followed by a quick stop at Target to pick up a few things I had forgotten to get while doing my shopping for the week.
AM "Snack"
I picked up an iced skinny vanilla macchiato while I was running errands.
Lunch
My lunch was pretty similar to what I eat on work days—peanut butter and jelly on Udi's gluten-free bread. I also had a serving of pretzels with some guacamole for dipping.
PM Snack
I made these black bean brownies after spin class, so I had to try one after lunch. I actually had two about this size, then another one later in the day! So in case you couldn't guess by my three servings, yes, they are good!
Dinner
Per my meal plan, I made these zucchini, walnut and feta cakes from Cooking Light. I was pretty impressed by the fact that my finished product looked similar to the picture with the recipe!
These were easy to make, but prepping the ingredients did take a bit of work. Try this recipe, but save it for a night when you aren't in a rush.
Dessert
I tried so hard to fight it, but after dinner I was overcome by the urge to get an Oreo cookie Blizzard! It is officially the time of year when I become absolutely obsessed with ice cream. (The fact that I live about 3 minutes away from a Dairy Queen is just trouble.)
What food or drink do you crave in the summer?