Halfway through the week… woohoo! It's time for another What I Ate Wednesday post, and tonight I'm sharing my eats from Sunday. This is mostly so I don't bore you all with pictures of oatmeal yet again!
Be sure to stop by Peas and Crayons and visit other blogs participating in the link-up.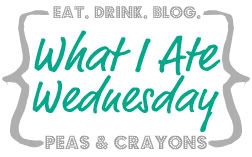 Sunday's breakfast was quick and simple—a bowl of cinnamon Chex (and a cup of coffee, of course!).
I shy away from eating cereal during the work week because I know it won't keep me full quite as long as my beloved overnight oats.
After church, I had a cup of strawberry Chobani.
I had plans to go out to lunch with my mom and sister, but I knew I needed a little something so that I didn't end up ravenous.
We ended up going to The Cheesecake Factory, which is easily one of my favorite restaurants. I started with a glass of unsweetened iced tea and two pieces of bread—one white, one wheat. Is there anyone on the planet that can avoid the bread basket at The Cheesecake Factory? Nope, didn't think so.
I ordered the Factory Chopped Salad from the Skinnylicious menu, substituting goat cheese for the bleu cheese and nixing the corn.
It was fantastic! I love chopped salads, but never seem to order them for some reason… gotta change that.
For dessert we split a slice of the white chocolate blueberry cheesecake among the three of us.
I feel like I should earn a gold star for only having a few bites of cheesecake—go me! 😉
Since we left lunch around 2:30PM, I wasn't all that hungry throughout the rest of the day. A big lunch paired with the fact that Chris went into work early (and therefore wasn't home for dinner), left me pretty unmotivated. I slapped together a quick pb and j on a sandwich thin and snacked on a few white cheddar Popcorners around 7:00PM.
That was it for the day! I was pleasantly surprised by how long the salad held me over for, and the few bites of cheesecake seemed to satiate my sweet tooth for the remainder of the day.
Have you ever tried anything from the Skinnylicious menu at The Cheesecake Factory?
Cheesecake—yay or nay?