Yay, its Wednesday! The weekend isn't too far away people!
It has been a few weeks since I last participated in Jenn's What I Ate Wednesday link-up, so I figured I'd make an attempt this week.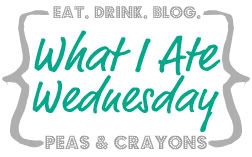 Here's what Monday's eats looked like:
Breakfast was the same as any other week day—overnight oats + a cup of coffee! I topped them with peanut butter, a few blackberries, and mini semisweet chocolate chips. Is that a weird combo? Oh well, it tasted good!
As soon as I got to work, I started chugging water.
I do so well with drinking water during the work week; I try and get 64 ounces while at work + another 16 during/after my workout. However, on the weekends, I'm lucky if I get 16 ounces each day. As soon as Monday morning hits, I start making up for my weekend shortcomings.
Lunch was leftover meatloaf from Sunday with yellow potatoes and green beans.
I cooked the meatloaf (made with 1 lb. of lean ground beef) at 350* for 35 minutes and it turned out perfectly.
I also ate my daily Cho—a cup of pineapple!
My afternoon snack was a bunch of sliced bell peppers.
So simple, and so good!
I also snacked on a few of these when my sweet tooth kicked made an appearance in the afternoon:
Dinner was the tomato and spinach past from Monday's meal plan.
It came together relatively quick post-workout and was perfect with just a simple buttered dinner roll. Pasta + bread = heaven.
For dessert, I heated up a VitaCake.
I love these little things! They are so chocolaty and only 50 calories—you can't beat that!
Have you ever tried/do you like any of the Vita products? VitaTops, VitaCakes, VitaMuffins, etc. Thoughts? What's your favorite? I like them, but they can be a bit pricey! Anything chocolate is my favorite, but I also like the banana nut VitaTop with some peanut butter on top.