Happy Wednesday!
I haven't joined the What I Ate Wednesday link-up in a while—and I managed to photograph my eats yesterday—so I figured, why not?! Here's a look at What I Ate Wednesday Tuesday.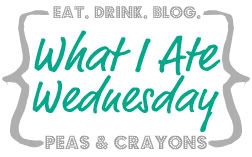 Breakfast
Breakfast is the same ol', same ol' around here… overnight oats. Every now and then, I add cereal into the rotation, but overnight oats do the best job of keeping me full throughout the entire morning. In case you're wondering, my overnight oats are a mix of old-fashioned oats, plain Greek yogurt, chia seeds, and low-fat milk. (I don't have the exact measurements; I just "eyeball" it.) I topped my oats with peanut butter, semisweet chocolate chips, and a drizzle of honey. The cup of coffee goes without saying!
AM Snack
I love these little Fiber One bars—the brownies, lemon bars, and cinnamon coffee cake are all yummy! They are small and not all that filling, but they make for a good snack with a second cup of coffee in the mid-morning.
Lunch
I packed leftovers from dinner on Monday (stuffed pepper soup), but I ended up having to order lunch at work and eating a salad. This was a small victory for me as I passed on the pizza that was there. Passing up pizza wasn't easy, but I just tried to keep in mind that it's something I can eat any time (like this weekend!), and I didn't need to have it in that moment. I also had a cup of pineapple Chobani.
Dinner
Following our meal plan for the week, I made baked Caesar chicken for dinner with green beans and mashed potatoes (this dinner makes for great leftovers, too!). I also enjoyed a small glass of Syrah… I needed something to take the chill off my bones caused by our –15* wind chills and red wine did the trick!
Dessert
As always, I had to end the day with something sweet. A chocolate-covered pretzel from my Christmas stocking made for a yummy dessert.
How often—if at all—do you order lunch out at work (or go out to eat at a restaurant)?