I've been intending to write a What I Ate Wednesday post for a few weeks now, but for some reason I keep forgetting to photograph an entire day of eats—I just get random snapshots here and there. Enter: What I Ate Wednesday, photo dump edition.
As always, don't forget to stop by Peas and Crayons to visit other bloggers who participated in the link-up!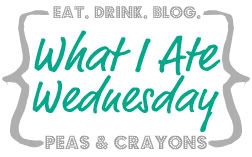 Monday's Breakfast
I had one of my favorite cereals—Honey Nut Cheerios Medley Crunch. The mug of coffee was very necessary.
Monday's Pick-me-up
God bless Dunkin' Donuts! I feel sad for those of you who can't taste the deliciousness that is a cup of Dunkin'.
Monday's Lunch
I love leftovers; they make packing lunch so easy. This was leftover cheesy chicken skillet from Sunday night.
Tuesday's Breakfast
'Tis the season for cranberry English muffins—my favorite! I topped it with a little butter + strawberry jelly. Since an English muffin will not keep me full for very long, I also had a cup of blueberry Cho.
Tuesday's Dinner
I made Courtney's chicken pot pie soup for dinner last night and it was delicious! It took a little more prep than I'm used to on a week night (I should've made the chicken ahead of time), but it was worth it! This also made good leftovers for lunch today.
Of course I've also been eating a lot of sweets (as per usual) and snacks. Chris and I picked up a box of sugar cookie Pop Tarts at Target this weekend, and I can't for the life of me remember why we thought that would be a good idea. Ah yes, because they taste like little squares of heaven.
Favorite Pop Tart flavor? I ride and die for s'mores. If you have no answer to this question, we might need to rethink our friendship. 😉