2 Oct
Hi and happy Wednesday!
It's time for another What I Ate Wednesday! Thank you to Jenn, as always, for hosting the link-up!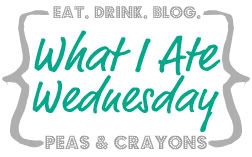 Breakfast
–
Cinnamon Chex and Green Mountain pumpkin coffee
Have any of you tried this cereal? I love it; it tastes just like Cinnamon Toast Crunch! The only thing I don't love about it is that it doesn't keep me full for very long.
Lunch – Peanut butter and jelly on Udi's gluten-free bread, white cheddar Popcorners, raspberry Chobani, and fruit snacks
I didn't take a picture of my lunch because I've eaten—and shared—this combo many times before. However, I did feel a lot better about my pb and j addiction after reading this article.
PM Snacks – Apple and string cheese
I have been loving honeycrisp apples lately! I'm not a huge apple person (I don't dislike them; they just aren't my absolute favorite fruit!), but these honeycrisps are so super sweet and yummy.
The string cheese was eating quickly before the gym.
Dinner – Pierogies and roasted tomatoes
Per my meal plan, I made pierogies and roasted tomatoes for dinner on Monday night. The roasted tomatoes turned out so well and were so easy to make; I'll definitely be making this as a side dish again soon.
After-dinner Snack – 100 calorie blondie bites
We picked these up on a whim this week and they're really good—they taste like little pieces of cookie dough! The only downside is the portion size, but I guess that's the downside of 100 calorie packs, huh?
I also snuck a handful of Haribo gummy bears when Chris cracked open a bag after dinner. Why are those things so darn delicious?
What's your favorite kind of apple?