18 Sep
And just like that, we're over the hump! Thankfully, this week is going a lot faster than last week (for me anyway!)… bring on the weekend!
For this week's What I Ate Wednesday—hosted by Jenn from Peas and Crayons—I actually only have four pictures to share with you all.
I really wasn't slacking though; I actually took a picture of what I ate Tuesday, it just didn't happen to be a ton of different things.
Let's take a look…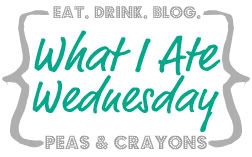 Breakfast
–
Overnight oats and pumpkin coffee
I shared this exact same meal in last week's WIAW post. What can I say? I don't like to mess with a good thing.
Lunch – Peanut butter and jelly, Popcorners, and pineapple Chobani
I recently mentioned that I've been trying to cut back on gluten, so I've started making my sandwiches using gluten-free bread. My stomach had been bothering me the most after lunch, and I've definitely noticed this has helped me considerably. The Popcorners are gluten-free too, and they're practically the most delicious thing ever (go for the white cheddar flavor!).
Snacks – Carrot cake Luna bar and a banana
I brought these two items with me to work, but only ended up snacking on the banana in the afternoon as a pre-workout snack.
Oh, and how could I forget… there is one thing I didn't photograph this week… I had a small piece of chocolate cake with peanut butter frosting for someone's birthday at work. Looks like I've got to learn to practice what I preach.
Dinner – Foot-long Subway melt
Apologies for the blurry iPhone pic and the missing bite!
I think this is the first time in the history of my Subway trips that I've ordered a foot-long. I just couldn't resist the $5 deal; it was only .50 more than the 6 inch, so I went for it. I got pretty close to finishing the whole thing, too. I must've been hungry from Pump!
If you're confused, yes I did say earlier in this post that I was cutting back on gluten and then proceeded to down a foot-long sub on Italian bread… it's fine.
I actually didn't have any dessert because I was so stuffed from my sandwich. And trust me… I've got to be really full not to go for a post-dinner sweet.
What's your favorite Subway sandwich? I used to always get a relatively plain turkey sandwich, but now I'm obsessed with the melt… it's so good!