11 Sep
Hello, hello—we're over "the hump"! I don't know about you all, but this week is crawling by for me for whatever reason. Just two more days 'till the weekend…
For today's What I Ate Wednesday post, I totally failed at photographing an entire day's worth of meals. Instead, I decided I'd share with you all a mish-mash of random stuff I've been eating… won't that be exciting?!
Feel free to check out Peas and Crayons and the other blogs participating in the link up.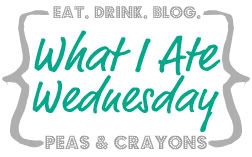 I recently started taking these vitamins each day (Chris got the men's version, too). I am a sucker for anything and everything gummy, so sometimes it's hard to stick to just two per day!
I have been trying to cut back (not totally eliminate) on gluten in my diet. (I'm doing some experimentation due to my ever-present stomach issues.) Anyway, this cereal is one of my favorites; it pairs perfectly with vanilla almond milk.
One of my favorite breakfasts (overnight oats) is still alive and well over here! As always, I gotta have my morning cup of joe.
This raspberry walnut chicken salad was my lunch today. This salad is good, but it needs some craisins and cheese if you ask me!
For dinner tonight, I made one of my favorite shrimp dishes, Garlicky Baked Shrimp. You must make this ASAP; it comes together so quickly!
Well, well, well… what do we have here?!
I've been sneaking a few spoonfuls of this every night. I am ice cream obsessed.
I'm usually more of a Larabar kinda gal, but I love this carrot cake flavor Luna bar. I grabbed a box when they were on sale at Target the other week, and now I have a feeling they'll be a regular purchase!
Aaaaand, that's all of got!
What's your favorite Ben and Jerry's flavor? If you say you don't have one, it may be time to reassess our friendship. (Just kidding!)
Do you take a daily vitamin?