Wednesday already?! I'll take it! Hooray for 3 day weekends and short work weeks!
Be sure to visit Peas and Crayons (who just had a baby – congrats to Jenn!) to check out other blogs participating in the What I Ate Wednesday link-up.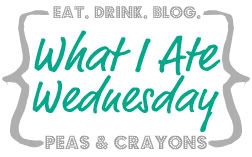 Here's a look at what I ate Wednesday Tuesday!
Breakfast – Pumpkin chocolate chip baked oatmeal + pumpkin coffee
As soon as September 1st hits, it's pumpkin all the way! I made a few batches of my favorite seasonal baked oatmeal on Monday, so I had a yummy breakfast all ready to go on Tuesday. A cup of Green Mountain pumpkin spice coffee rounded out the meal.
AM Snack – Fruit cup + cupcake
How's a fruit cup + a cupcake for balance?! haha I bought these frozen fruit cups at the grocery store this week because I had a double coupon and they were on sale. They're just "regular" fruit, but I'm a sucker for anything pre-portioned that saves me time and energy.
One of my co-workers brought in "minion" cupcakes. I didn't take a picture, but they looked like this:
Lunch – Leftover veggie baked ziti
I made this recipe Monday, and it worked out to be some yummy leftovers for Tuesday. I've always been a fan of baked ziti; this version is just amped up a bit.
PM Snack/Pre-workout Snack – String cheese + FRS energy drink
I had just enough time to get in a quick snack before BodyPump yesterday. A full review (+ giveaway!) of these FRS drinks is coming soon!
Dinner – Raspberry walnut salmon, green beans, + dinner roll
To make this salmon, I just coated a large filet with a few tbsp. of raspberry preserves and a handful of chopped walnuts… so easy! (I bake my salmon by putting it in a cold oven, setting it to 400*, and leaving it in for 20-25 minutes… it turns out perfectly.)
Dessert – Chocolate-covered banana bites
This was another new find at the grocery store this week. They're yummy and help to satisfy my raging after-dinner sweet tooth.
Have you picked up any "new to you" items at the grocery store lately?