7 Aug
It has been a little while since I jumped on the What I Ate Wednesday bandwagon, but I'm back again! This is what I ate on Monday (and be sure to check out Jenn's site to see what other bloggers are eating this week!).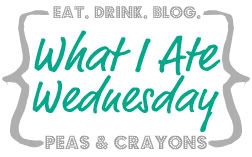 Breakfast
Overnight oats are a warm-weather staple for me. This is my go-to filling summertime breakfast. The coffee was a new-to-me-flavor that I picked up while out at Bed, Bath, and Beyond this weekend… very yummy and nice to have for a little something different every now and then.
AM Snack
This went unpictured, but I had a Special K cereal bar around 10:00AM. These taste great and are only 90 calories. (I like the strawberry flavor, too.)
Lunch
Occasionally, I need to order lunches for meetings at work and when I do so, I get to order for me, too—pretty sweet! Monday was one of those days, and I ended up with a ham sandwich. It came with pasta and fruit salads, and of course a little something sweet.The small cookie had a delicious glaze on top and hit the spot!
PM Snack
In between work and the gym, I had a s'mores granola bar—Chris and I have both been loving these lately.
Dinner
Monday night's dinner was the "OMG Chicken" I mentioned in Monday's meal plan post. This never disappoints and I love how quickly it comes together—a high priority when I'm hangry after the gym.
Dessert
Of course I had to sneak "a few" of the yummy funfetti bars I made on Sunday. Chris and I both find it difficult to walk into the kitchen without having one of these… so good.
Water Intake
I made it a goal on Monday to fill up my 20 ounce water bottle 6 times. (I love this water bottle because it has a dial you can turn to keep track of your "fill ups.") To fulfill this goal, I made sure to empty it every two hours (8-10, 10-12, 12-2, and 2-4) while I was at work. I drank a bottleful throughout my workout and another in the evening while at home—mission accomplished!
Do you make a conscious effort to drink a certain amount of water each day? If so, how much?