What I Ate Wednesday is upon us again! While my participation has been sporadic at best, every now and then I happen to remember to photograph (most of) my eats for the day. (This is actually what I ate on Monday.) As always, you can visit Peas and Crayons to see other posts in the link-up.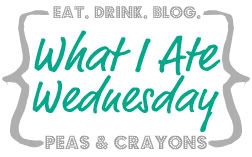 Breakfast
–
Overnight oats + coffee
This should come as a shock to no one!
In the mix this time around were oats, vanilla Chobani, milk, chocolate stevia, mini semisweet chocolate chips, a big scoop of pb, and a little bit of honey. I never stray from this breakfast because it always keeps me full until lunch!
Lunch/Work Snacks – Hamburger on a bun, Special K popcorn chips, Target brand fruit snacks, and raspberry Chobani + water
Chris grilled on Sunday, so I packed a leftover burger for lunch (I added ketchup + mustard at school after I warmed it up). I ate the burger, chips (obsessed), and fruit snacks at lunch and saved the Chobani to eat during my prep period at the end of the day.
After-school Snack
I received these orange cranberry Gnu Foods bars in a shipment from Swanson Vitamins. I had seen these bars pop up on a few of my favorite blogs, but this was my first time trying them and I was very impressed… these are good (Chris likes them, too!). I can't wait to try more flavors!
Dinner – Baked Caesar Chicken with green beans
Recycled photo, but Monday's dinner looked identical!
I love this recipe… like, love. It always makes for tasty leftovers, too!
Dessert – Key lime Chobani Flip
I forgot to take a picture!
If you haven't tried these Chobani Flips yet—and you're a fan of key lime—you must get your hands on them ASAP!
Do you have any "healthy" dessert alternatives?