Well this week is flying right by, isn't it? If only every week were 4 days! I can't complain, though, since I'll be on summer break in 6.5 days… but who's counting? 😉
**********
To find out more about What I Ate Wednesday, & to see other bloggers' posts, be sure to check out Jen's blog.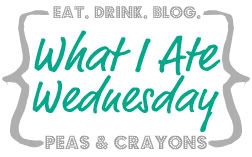 Breakfast
Breakfast this morning was strawberry-walnut overnight oats, with coffee on the side, as always. I've been out of chia seeds the past few days, & the texture of the overnight oats just isn't the same! Don't worry – I stopped & picked some up on my way home from work today. $7.00 well spent!
Lunch
I always pack my lunch at night to cut down on the amount of rushing around I have to do at 6:00AM. On the menu today was a simple peanut butter & jelly sandwich. While I usually pack leftovers, I ate leftovers for dinner on Tuesday, so I had to go with my old stand-by. On the side, I enjoyed some Popcorners (these are so good & so addicting!) & a pineapple Chobani.
Snacks
At the end of the school day, I had a 100-calorie pack of Blue Diamond almonds to help hold me over as I ran some errands (aka – replenished my chia seed supply). When I got home, I polished off the pineapple/strawberries I brought to work with me today. Can you tell I'm really feeling pineapple & strawberries today? Either that or we loaded up on fruit at BJ's & need to eat it all before it goes bad. 😉
Dinner
It's been a few nights since I've actually made dinner, and it took a little self-motivating to get back in the kitchen. While I had plenty of ingredients on-hand, I didn't particularly feel like making anything on this week's meal plan. I'm glad I sucked it up & made this dish – chicken tender skillet – because it was quite tasty & really didn't require too much effort. Green beans were served up on the side for a little veggie action!
Dessert
I knew what my dessert was going to be as soon as I saw this post on Sarah's blog this morning. I followed her recipe for this "mug cake" & it was delicious! I was (pleasantly) surprised by how big the serving was – I actually had a hard time finishing it, & that's saying a lot coming from a sweets lover. I'll definitely be trying this again & experimenting with some different flavors & mix-ins.
There you have it, my friends!
Which do you prefer – pineapple or strawberry? Neither?! My own question is tough for me to answer, but I suppose I'd have to go with… strawberry!