First, I'd like to thank you all for your kind thoughts & congratulations on yesterday's post! I actually met with our realtor for a few minutes today & she told me the "sale pending" sign is in the yard.
I can't wait to document the first-time homeowner experience & decorating ideas here on the blog!
Moving on…
Time for another installment of WIAW – What I Ate Wednesday. Be sure to stop by Jen's blog (Peas & Crayons) to see what other bloggers are eating!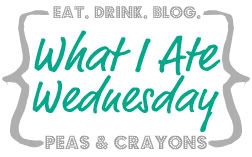 Breakfast
–
Overnight oats & coffee
I used my usual overnight oats base (2/3 c. oats, 1/2+ c. milk, 1 tbsp. chia seeds, 1 tbsp. vanilla Greek yogurt) & added in some raspberries & peanut butter this morning. Sadly, I was a little heavy-handed with the milk last night, so this batch was a little too "liquidy." There's always tomorrow… 😉
Lunch – Fluffernutter (!!!) on whole wheat bread, chips, a black cherry Chobani, & water
Last night as I was packing my lunch, I spotted the jar of marshmallow fluff that I purchased for something I made for my Mother's Day brunch. I knew that I needed to make a fluffernutter for lunch today! Sugar-laden? Yes. Delicious? Yes again!
The chips were sent to me to sample from The Better Chip, & so far, I'm a fan (full review to follow!).
Dinner – Baked chicken parm bites atop rotini & peach tea
Inspiration struck this evening, & I decided to spend a little extra time in the kitchen trying out a new recipe (an Erica original!). I'm always a little leery of how something will turn out when I don't use a recipe, but these chicken parm bites were awesome. I'll post the recipe soon!
Dessert – Ghirardelli dark chocolate sea salt square
These little squares provide just the perfect amount of sweetness after a meal!
Do you usually eat something sweet after dinner? I always do!