Good evening friends.
Time for another What I Ate Wednesday post! Head over to Jen's blog to read more about WIAW & see what other bloggers noshed on this week!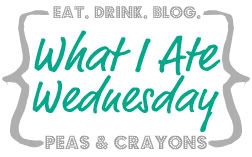 Since my eats were rather boring – & I'm sure no one needs to see more overnight oats – I've decided to make this post a "What I
WISH
I Ate Wednesday." I've seen a few bloggers do similar posts in the past, & thought it might put a fun spin on things!
If I could have had anything today, I would have had…
Breakfast – Waffles with Dunkin' Donuts iced coffee!
I haven't had waffles in forever & have had a strong hankering for them lately. I always have a strong hankering for DD iced coffee, but rarely make it out the door early enough to stop for some.
Lunch – A giant bagel with cream cheese!
Bagels are another food item I've really been craving lately. I usually try to avoid them since I know it won't keep me full for long, but I think I may have to surrender to the craving soon!
Dinner – Sushi!
I haven't had sushi in a few weeks, so I'm overdue! The roll on the left – the Philadelphia roll – is my favorite! (Smoked salmon + cream cheese)
Dessert – A Crumbs cupcake!
I need a reason to go to NYC so that I can pick up a few dozen Crumbs cupcakes – they're the best! The "Happy Birthday" cupcake (pictured above) is perhaps my favorite!
If you could eat ANYTHING right now, what would it be? I'm standing firm on my cupcake pick!