Happy half-way through the week everyone! This week is actually moving along quite nicely, & not dragging like usual. I hope it's feeling that way for you, too.
Since it's Wednesday, it's time for another What I Ate Wednesday. You can read more about WIAW on Jen's blog, & check out what other bloggers have been grubbin' on.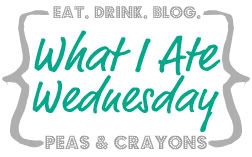 Breakfast
– Overnight oats & coffee
I should really just start excluding breakfast from my WIAW posts, since it's always the same thing. I can't help it; nothing keeps me full for as long as overnight oats do & I love the grab & go convenience.
In today's mix:
2/3 c. old fashioned oats
~1 c. non-fat milk
1 tbsp. chia seeds
1 tbsp. vanilla Chobani
Toppings (added in the morning):
A generous handful of peanut butter Cheerios
A handful of walnuts
1 tsp. White Chocolate Wonderful peanut butter (I'm obsessed!!!)
Drizzle of honey
Lunch – Strawberry banana Chobani & a banana
I wasn't feeling super-great around lunch time, so I opted not to eat the leftovers I had planned. (I actually didn't feel that great after eating dinner last night, so the thought of downing the same food wasn't appealing!)
Anyway, I don't usually eat only a yogurt & banana for lunch, but it felt like a safe option & I surprisingly wasn't left feeling all that hungry throughout the afternoon, so it did the trick!
Dinner – Chicken 'N Peppers Pasta Skillet
By the time I got around to making dinner, my appetite was starting to return. I felt well enough to attend spin class, so I was experiencing post-workout hunger on top of the fact that I hadn't eaten much throughout the day.
This dinner (recipe can be found using link above!) was fantastic. It combined pasta, chicken, & bell peppers – three of my favorites! – into a filling, easy-to-make meal!
I definitely went back for seconds!
Last but not least…
Dessert – Bear Naked cookie, topped with White Chocolate Wonderful
I told you I'm obsessed with this peanut butter!
What was the best thing you ate today? Healthiest? Most indulgent?