Hi everyone!
Today, I had a hair/nail appointment after work & didn't walk in the door until after 7:00PM. I usually try to schedule those things for the weekend, but a weekday appointment had to occur this time around (my roots were atrocious!).
Anyway, I just have a fast run-down for you all! Be sure to check out Jen's blog for some other great What I Ate Wednesday posts!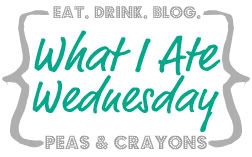 Breakfast
Overnight oats, which contained the following:
2/3 c. oats
1/2 c.+ milk
1 tbsp. chia seeds
1 tbsp. vanilla Chobani
Golden raisins
Semisweet chocolate chips
1 tsp. peanut butter
Honey
Cinnamon
I really packed on the toppings this morning, which made for a filling meal! As always, I had a cup of coffee too. I'm currently working on a box of Starbucks breakfast blend K-Cups.
Lunch
The home-ec teacher at my school knows how much I love Nutella, so she set aside a Nutella & berry crepe for me! I ate that right before my "real" lunch, so I wasn't that hungry for the leftovers I had packed (undone stuffed pepper casserole). I ate about half of the leftovers & had an apple cinnamon Chobani too!
Snacks
I had a chocolate chip brownie Larabar, a banana, & a pack of Target brand fruit snacks as my snacks throughout the day! I hoped they would hold me over through my hair appointment, but my stomach was definitely empty by the time I left the salon.
Dinner
I had every intention of stopping at Subway on the way home, but a Chick-fil-A craving hit me suddenly, & I decided to give in! Even though Chick-fil-A has shown up in a WIAW post before, I rarely eat fast food. While I could have gone with the slightly healthier option of Subway, I knew I wouldn't truly be satisfied & would probably end up eating more (an evening snack, perhaps). By giving into my craving, I felt content afterwards & didn't end up indulging more than necessary!
Are you more likely to give into a craving, or make the healthiest choice possible? Generally, I try to make healthy food choices, but I have no problem giving into cravings every now & then.