22 May
It's been a few weeks since I last participated in What I Ate Wednesday, but a lot of times I feel like I'm eating the same stuff over and over again (I do!) and that gets old. This week, I've added in a few new foods, so I figured I'd share my eats.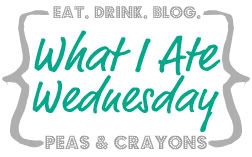 Breakfast
–
Special K Cinnamon Pecan cereal (topped with blueberries) and coffee
I picked up this cereal at Target on Monday because it sounded too good to pass up. I usually stay away from eating cereal for breakfast since it doesn't keep me full for very long, but I just made sure to have a big bowl.
I'm still loving Gevalia coffee, and I just bought Coffee Mate Natural Bliss chocolate-flavored creamer which makes it even tastier!
Lunch – Cream cheese stuffed bacon wrapped chicken and green beans
You saw this recipe on my Meal Plan Monday post. It turned out great! My only issue was that the bacon grease sort of splattered all of my oven causing a smoke alarm/smoke-filled house scenario. Not good, but nothing a few open windows + candles couldn't fix.
Work Snacks – Blueberry Chobani, Special K blueberry cereal bar, and fruit snacks
These were the rest of the goodies that went into my lunch bag. I ended up eating the cereal bar around 9:45 (my students were watching a movie), and I had the fruit snacks with lunch. I ate the Cho during my prep (around 1:40). Blueberries + blueberry-flavored items were definitely a theme today.
I also have to mention the Market Pantry cherry limeade sparkling water… so good!
Afternoon Snack – Two fruit bars
It's so hot/humid out today that I pounded one of these as soon as I walked in the door. It tasted so amazing that I had to have another!
Dinner – Salad and angel hair pasta with bay scallops
After I got home from the gym, I was so hungry that I had to have a salad while I was prepping my "real" dinner. I topped bagged spring mix with carrots, croutons, and a little bit of Caesar dressing.
Dinner was just "eh." It was kind of bland; I'll need to add something more to the scallops the next time I try this.
Dessert – Pepperidge Farm strawberry cheesecake cookie
These were another Target find this week. I had just one after dinner, and it was the perfect amount of sweetness!
What's a new food product you've tried and loved?